Wednesday, February 6th, 2019
The Creatiques FASHION SHOW
Creatiques are a multi-award winning Bridal Boutique, based in the heart of Southsea. With over 27 years of experience within the Bridal Industry, co-owners Andrew and Robert Pearce and their small team of highly trained and experienced Bridal Consultants offer a personalised, one-to-one appointment to each and every bride. Within a beautifully furnished surrounding, home to over 130 handpicked sample gowns, the team pride themselves on their longstanding ethos – 'From the first step through the Creatiques door, to your first step down the aisle'
Rob and Andrew have been told on more than one occasion that they 'Know how to dress a woman!'
Brides adore Rob's chilled out, and calm personality. He is an absolute genius when it comes to the retail management side of the business, and is rarely phased by anything. Rob is a window dressing extraordinaire, often taking something unsuspecting but creating a masterpiece of a window display, generating "oohs and ahhs" on the other side of the glass. Rob has 30 years of Retail Management experience, and is a firm believer in finger spacing- much to the Creatiques Teams dismay! Rob loves a huge array of music, and is often in charge of the Creatiques playlist; which after a long day of fittings can result in some interesting dance moves…often including veils; very Pans People-esque.
Andrew is passionate and precise, there isn't much he doesn't know about a wedding dress. Starting Creatiques all those years ago in a small workroom in his house, Andrew not only fronts the award winning business and is a bridal hair expert but is also renowned fashionista within the industry. Andrew will stop at nothing to deliver a second to none service to the Bride's and this shows in his persona. In his spare time (not that there's much of it mind) Andrew enjoys cooking up culinary delights, which he has proved rather fabulous at; so much so that in 2013 Andrew reached the semi-finals of ITV's 'Food Glorious Food' as his very glamorous alter-ego The Fabulous Miss G. As Miss G, Andrew has since gone on to raise hundreds of thousands of pounds for Hampshire based charities, and Queen Alexander Hospital.
A big part of their very successful team plays Kayleigh who joined them back in 2014, bringing with her a fresh take on the Bridal Industry. She is warm, friendly and down to earth approach makes her a popular choice with Bride's who are slightly nervous or unsure of where to go with their style. Kayleigh is in store every day and works closely with Rob and Andrew on the day to day running of Creatiques; Kayleigh  is a consistent face you will see throughout your Creatiques journey.
She enjoys pulling out a 'wild card' dress in every appointment, which whilst still dressing for the Bride's shape, pushes them slightly out of their comfort zone proving to be an absolute gem of a technique with the majority of Kayleigh's brides.
The simply glamorous Creatiques Bridal Boutique has almost become a fashion icon on Albert Road, and during their transformation they have inspired other local businesses, either to change their appearance or bring something new to the community.
Rob and Andrew's attention to detail is something very extraordinary. Their personalities and work ethic goes such a long way, for which happy brides remember them forever. It is truly mesmerising how involved the whole team gets with everything in preparation for the "big day" and as a result, most of their clients become their friends.
..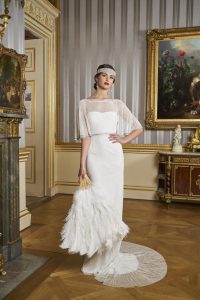 We asked Rob what the "perfect", most appropriate bridal gown for a wedding held at The Queens Hotel would be. He stood up and picked out a vintage, Great Gatsby style wedding gown – Pompeii by Eliza Jane Howell.
We look forward to future collaborations between Queens Hotel and Creatiques.